Farm Plots cannot be purchased. They are rewarded from quests and require goods to build them. Once built you can now start planting. You will not find seeds in your inventory but you can access them by clicking your Farm Plot.
Requirements to build one plot:
Clicking your Farm Plot will open up the following menu: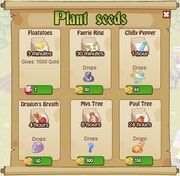 Seeds, cost, drops and time:
Ad blocker interference detected!
Wikia is a free-to-use site that makes money from advertising. We have a modified experience for viewers using ad blockers

Wikia is not accessible if you've made further modifications. Remove the custom ad blocker rule(s) and the page will load as expected.